By Pandora Boxx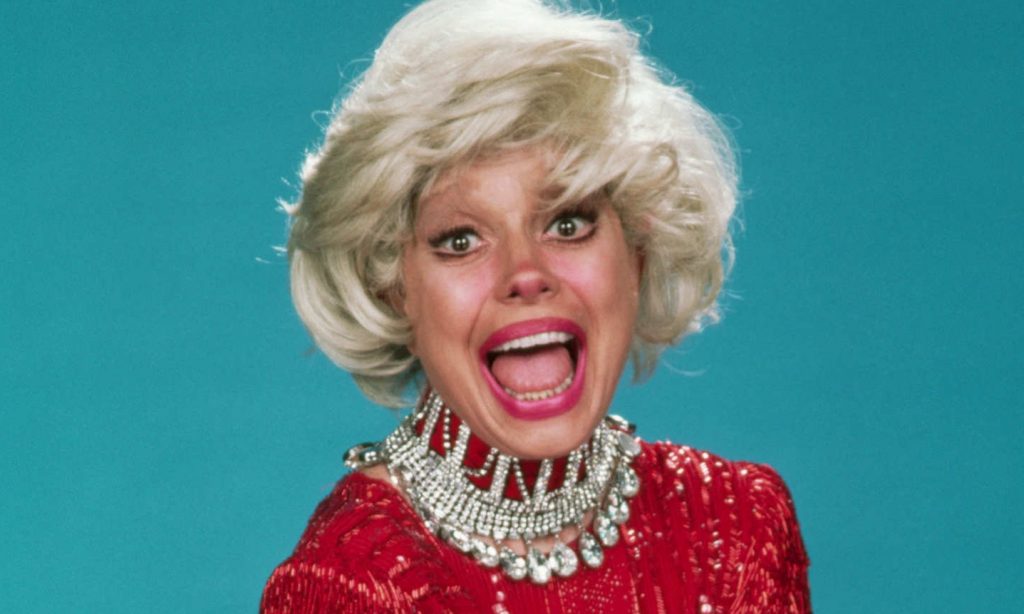 When I was growing up a little boy, I wasn't into sports like little boys should be. I didn't care about being a guy or a man. I didn't fall into any of those supposed gender laws. Then I didn't fully understand the scope of it. My escape from the world that I didn't seem to fit was television and movies. I could delve into these fantasy worlds that were much more fantastic than the gray world I dwelled in. The people I saw were so colorful and different than anything in my normal life. I wanted to be in that television world. One of those people that kept would repeatedly pop up was this wacky, hilarious lady. Big blonde tousled bouffant. Skinny as a pencil. The broadest, happiest smile. And that voice! She spoke in the most fabulous raspy, squeaky cartoonish voice. She mesmerized me because I wondered if she was a real person or was she a Muppet? She radiated joy with just one shake and shimmy. That lady made me forget about my blues. That lady made me want to be an entertainer. That lady was Carol Channing.
For those who don't know, Carol Channing originated the role of both Lorelei Lee in Gentlemen Prefer Blondes and Dolly Levi in Hello Dolly (winning the Tony for Best Lead Actress in a Musical) on Broadway. She was a regular staple on TV talk shows and game shows throughout the 60's, 70's and 80's. She made guest appearances on legendary shows like The Muppet Show, Sesame Street and The Love Boat. She even once dressed like a pirate and sang the theme song to the trippy 60's movie Skidoo! Of course, there was also her Golden Globe winning appearance in the movie Thoroughly Modern Millie where she uttered the iconic "Raspberries!" In interviews she talked about how ridiculous she thought the line was but trusted the director. Aren't we all glad she did? Then there was the television version of Alice in Wonderland where Carol played the White Queen. It was utterly bizarre and trippy but then again so is the book. She had this amazing song Jam Tomorrow, Jam Yesterday and then after the song she turned into a sheep. Yup. You read that right. It's truly has to be seen to be believed.
I always delighted in seeing Carol Channing in anything. I remember she was presenting at the Tony Awards with LL Cool J. It was such an odd match that ended up being the highlight of the night! She rapped. She danced. She was incredible. It inspired me to create a series of videos called Carol Channing Rambles where Carol (played by me) was the host her own talk show. I could and would watch Carol in anything. She was the epitome of a true unique entertainer. She made me happy every time I saw her. She had that power to brighten up the screen from the moment she was on it. I just wanted to be like her. She was unabashedly herself and it was glorious. There will only ever be one Carol Channing.
When I got on RuPaul's Drag Race, we were told very little about what we would be doing. You had to prepare for the unexpected. In our welcome letter it was suggested we might be doing a celebrity impersonation. On the fourth episode, RuPaul walked in the workroom and announced that we were doing a spoof of the legendary game show Match Game, I squealed (side note: most of the queens had no idea what that show was). Of course, I had to do Carol Channing for the Snatch Game even if almost every queen had no idea who she was. But the most important queen, RuPaul, threw her hands in the air and shouted, "Yes!" when I told him. Becoming Carol Channing on Drag Race was my absolute favorite moment on the show. Carol was always in on the joke. She played up that ditzy blonde but still remaining true to herself. I knew portraying her I had almost a free reign in what I could say. I felt like I knew Carol and I could let her take over me. It paid off. I made RuPaul laugh! Plus I got to enlighten people and share Carol's fabulousness with people who had never heard of her. They had now! It's truly amazing that people still talk to me about this performance almost a decade later.
I have to give thanks to Carol Channing for so many things. Thank you for being an inspiration. Thank you for being uniquely you. Thank you for all the amazing work that you did that will live on forever. Thank you for inspiring a shy little boy to not be afraid to be wacky and different. Thank you for inspiring me to become an entertainer. Thank you Ms. Channing, for just being you. You will be missed by so many. One thing is for sure Carol, you'll never go away.