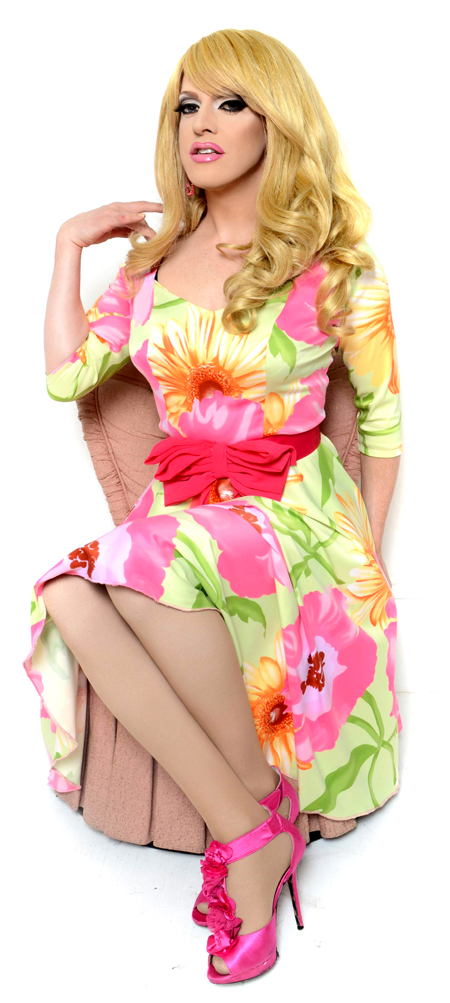 Drag queen, actor, comedian, recording artist, writer Pandora Boxx is best known as a contestant on the Emmy winning show RuPaul's Drag Race (Season 2, All Stars S1 and 6). Despite not winning, Pandora proved to be the break-out star and was named by Entertainment Weekly as their "America's Next Drag Superstar." EW.com said that hers was "the most controversial elimination of the season (2)." Fans voted her "Miss Congeniality" of the show, winning by "a landslide." That popularity lead to becoming a drag professor on the spin-off show called RuPaul's Drag U (Season 1 – 3) for which she was voted MVP by fans of the show. Pandora has also appeared in her own GLAAD award winning Absolut 'Cocktail Cabaret' commercial, had a sold out hit off-Broadway comedy show called Lick This Boxx and even appeared as a video game vixen in the app RuPaul's Drag Race: Dragopolis.  Pandora hosted a weekly comedic radio show/podcast aptly titled The Pandora Boxx Show, for UBNradio.com.
Pandora has opened for some fabulous ladies like LeAnn Rimes and Chely Wright. Other appearances include: AJ and the Queen (Netflix), The B**ch Who Stole Christmas (Film), Binge Queens (WOW Presents Plus), Open To It (Web Series), Wigs in a Blanket (OutTV), The Browns (OutTV), Some Kind of Wonderful (TV series), Talk Show the Game Show (TruTV,)The Mysteries of Laura (NBC), Are You There, Chelsea? (NBC), Watch What Happens Live (Bravo), One Night Stand Up: Dragtastic NYC (Logo), The Tonight Show with Jay Leno (NBC), Jeffrey & Cole Casserole (Logo), Clip of the Week on The Soup (E! Entertainment), People you Know (Web Series), Drag Center (Web Series, LogoTV.com), X-Confident (Short), A Voice From A Lantern (Film), The Unauthorized Musical Parody of The Devil Wears Prada (Stage), Psycho: The Musical (Stage), Steel Magnolias (Stage), and her own original play The Lipstick Massacre (Stage)
In 2011, Pandora added recording artist to the list releasing the song Cooter! (written with Billboard recording artist Jipsta) which reached 56 on the iTunes dance chart. Following up on that success she released a follow up single Nice Car! (Shame About Your Penis) in October 2012 which reached the top 100 in the iTunes dance sales chart. Pandora hit the charts in 2013 with a parody (I Knew You Seemed Shady) of Aretha Franklin and George Michael's I Knew You Were Waiting For Me, with Billboard recording artist Adam Barta (which reached 50 on the iTunes Comedy Chart). That was followed by the K-pop infused, pride anthem Different, a song that resonated to those affected by bullying. Her recent parody song Oops I Think I Pooped reached, appropriately, number 2 on the iTunes Comedy Chart. Pandora's latest single Ridiculous (featured on RuPaul's Drag Race All Stars 6) went to number one on iTunes Comedy Singles chart.
Pandora was the creator, writer and star of the public access/internet show The GAY (means happy) SHOW!  That show and other work were featured in several film festivals like the ImageOut Gay & Lesbian Film Festival and the Berkeley Film and Video Festival (receiving two honorable mentions).  In 2009,  Pandora produced, starred in and wrote the hit play The Lipstick Massacre, a comedic murder mystery. The play premiered at Rochester's MUCCC to four sold out shows which prompted its return several months later to the prestigious Geva Theatre Center, also in Rochester, to rave reviews.
Currently, Pandora is touring the globe spreading giggles, fabulousness and glitter. She is also working on her debut album.
Find Pandora on Instagram: @PandoraBoxx, Facebook and Twitter: @ThePandoraBoxx.