Was it JTT? Devon Sawa? Bowie? A Power Ranger or a Backstreet Boy?Just who was it that first made ya tingle??
I bet I'm not alone when I say I had a copy of this little beauty hidden in the shoebox under my bed along with my diary and a love letter to the first boy I had a crush on (that I never had the nerve to give to him.)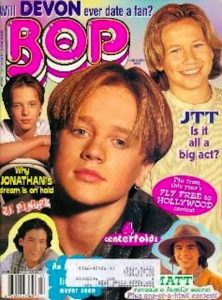 It started with Andrew Keegan. But then The Lion King came out, so we had to break up because me and JTT were going run away together.
Then there were these guys. I could go red or green. They made me feel like Christmas, and I would have been ok with either package under my tree.
Until this happened. It wasn't just the glasses I wanted him to take off.
Then this happened? I had a moment guys. I mean come on though.
Then there was high school. I played Janet and lost my virginity to the guy who played Frank. But I had the part before I slept with him. I promise.
And then I was pretty sure I liked boys. Minus the Xena episode. And now I have my Patrick. Those are totally my legs you guys. Yup. Totally me in the picture. Mmmm hmmm. Yup.
So whats the story of your, dare I say, sexual awakening?!
Sam
www.instagram.com/thesamanthahale