Thankfully The Golden Girls seem to be living on forever and I'm not complaining. Coming soon to kitchen tables and lanais everywhere it's CLUE: The Golden Girls.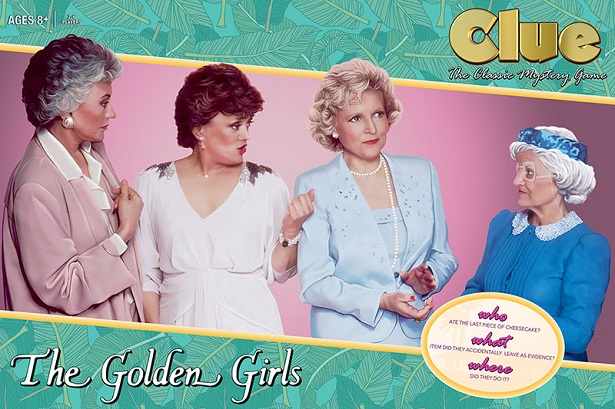 YES! Now don't all upset about having to bump off your favorite gal. In this incarnation of the game it, per its manufacturer, will challenge players to solve "WHO ate the last piece of cheesecake, WHAT they left at the scene of the crime, and WHICH room they did it in." A-mazing!
And you get to be either your favorite Golden Gal or one of two mystery suitors (probably one of the many Men of Blanche's Boudoir). Though they seem to resemble Rose's boyfriend Miles and Dorothy's sleazy ex-husband Stan.
Since there's no murder, there's no need for weapons. Instead, we have various items left behind as evidence including a heel, a purse and a wicker chair. Who leaves a wicker chair behind? Enough wicker!
All of the famous rooms of the Golden Home are here too. Don't worry the layout makes no sense, but did it in the show? It's fabulously detailed for all the hardcore fans too! How could you not include Blanche's iconic palm leave motif?
I need this game ASAP. Sadly right now we have to settle for "Coming Soon." I guess I'll head over to Hulu and watch some Golden Girls in the meantime.